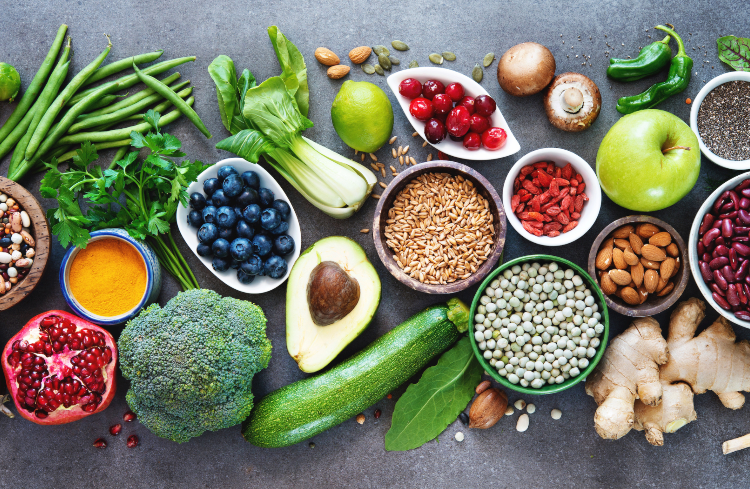 Change To Healthier Diet Option
When you are considering changing your diet, for a number of reasons. Changing your diet because of your feet is hardly ever the number one priority. However, your feet benefit greatly from improved diet and good exercise routine. A healthy diet is the foundation of good health, and the benefit to your feet is impactful and delightful. Here are some tips from Dr. Babajide Ogunlana to get you started:
What To Consider When Making That Change
Plan ahead. Make sure you stock the refrigerator and pantry with healthy items for breakfast, lunch, dinner, and snacks.

Pack your lunch when you go to work. Fast food is high in calories and loaded with sodium, which can cause fluid retention.

Eat three meals daily. Don't skip meals. You're more likely to reach for whatever is handy – often junk food – when you're hungry.

Base your meals in lean protein, produce, and whole grains. Choose fruit for snacks when possible.

Promote circulation and reduce your risk of edema (swelling) in the lower legs by drinking plenty of water every day while avoiding caffeine and alcohol.

Avoid soda and other sugary beverages. These cause weight gain that can affect foot health while offering little to no nutritional value. They are especially dangerous for people with diabetes, which has potentially severe complications for the feet.

Osteoporosis is a dangerous weakening of the bones throughout the body. People with this condition are more prone than others to fractures of the tiny bones in the feet. Stay safe by choosing several portions of calcium-rich foods daily. Good options include low-fat dairy foods, dark leafy greens, and fish that are eaten with their bones intact such as sardines and anchovies.
What else can you do to promote the health and wellness of your feet, ankles, and lower legs? See a board-certified podiatrist like Dr. Babajide Ogunlana, DPM, FACFAS regularly. Call the friendly at team Dr. Ogunlana  on 281-778-5560 or click here to schedule a visit to our modern, comfortable office today.