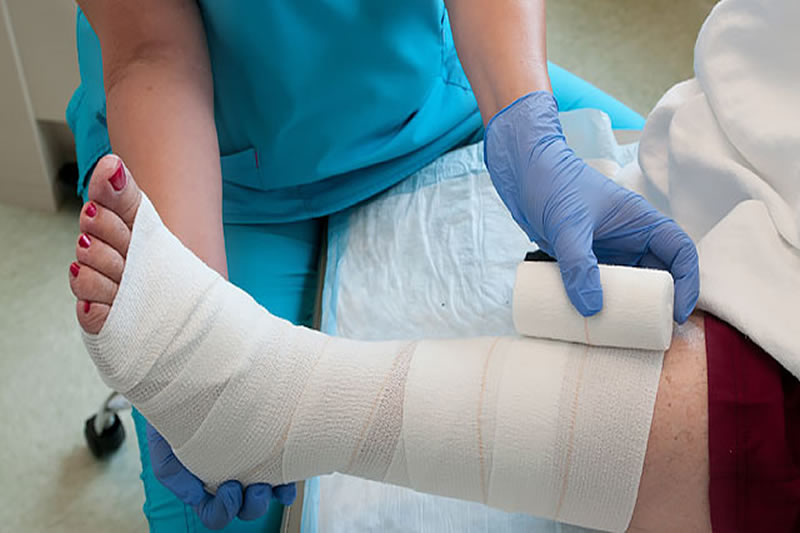 Wound Care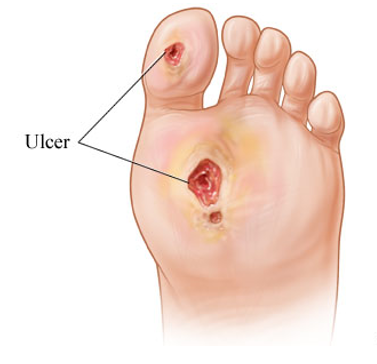 Diabetes is the leading cause of non-traumatic lower extremity amputations in the United States, and approximately 14-24 percent of patients with diabetes who develop a foot ulcer will require an amputation. Foot ulceration precedes 85 percent of diabetes-related amputations. Research has shown, however, that development of a  diabetic foot ulcer  is preventable with proper treatment.
For more information on wound care, see the APMA website.
What causes a diabetic foot wound or diabetic ulcer?
There are multiple factors that can lead to the formation of a Diabetic Foot Ulcer. One of the key factors is the reduced blood flow to the foot. The reduction of blood flow can be due to multiple factors such as excessive alcohol and tobacco use. Another leading factor is Diabetes because high Glucose levels have a negative effect on artery walls. The deterioration of the arterial walls leads to excessive plaque build up reducing the amount of blood that can reach a diabetic foot. This is known as Peripheral Artery Disease (PAD). Take a simple PAD Test or schedule an appointment with our podiatrist (schedule link) to see if you are at risk for developing diabetic foot ulcers
How does a podiatrist treat a diabetic foot ulcer?
There are several key factors in the appropriate treatment of a diabetic foot ulcer:
Prevention of infection

Taking the pressure off the area, called "off-loading"

Removing dead skin and tissue, called "debridement"

Applying medication or dressings to the ulcer

Managing blood glucose and other health problems

Keep the ulcer clean and bandaged;

Cleanse the wound daily, using a wound dressing or bandage; and avoid walking barefoot.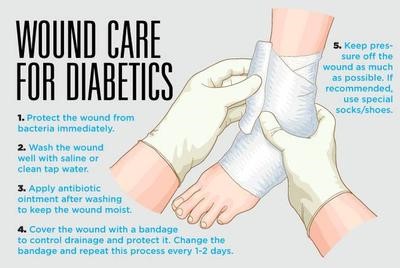 Advanced wound care treatment
Podiatry Associates can easily manage diabetic foot ulcer. However, there are instances where the complexity of the diabetic foot ulcer requires wound care management that is typically provided by Dr.Ogunlana.
We at Dr. Ogunlana are staffed by an interdisciplinary team of providers that includes vascular surgeons, plastic surgeons, general surgeons, hyperbaric oxygen therapy technicians, podiatrists, and wound care nurses. This approach allows us  to offer specialized wound care treatment ranging from direct wound care to hyperbaric oxygen therapy to manage complex diabetic foot wounds and other hard to heal wounds of the foot and/or lower extremities.